Steel Cock Ring Anal Pleasure Set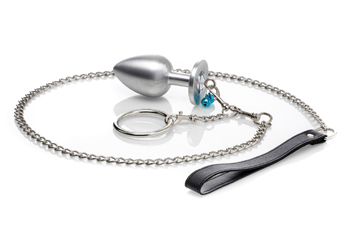 Click To Buy At Simply Adult Dvd
Steel Cock Ring and Anal Set is the best investment you could make to spice up the bedroom for yourself or you and a partner. It comes with one 45mm Steel Cock Ring, one 1 metre leash, one Anal Plug (Made of aluminium alloy) and one 5cm Chain With two Hook. Indulge your fantasies with this set designed to help you explore in the bedroom.
Measurements:
Plug 40 mm, leash 1 meter
Cockring 45mm.

Material:

Anal Plug: Aluminum Alloy
Ring: Iron(steel)
Chain & Hooks: Iron(steel)
Handle: Artificial Leather
You may also be interested in...