Fuck Me Doc!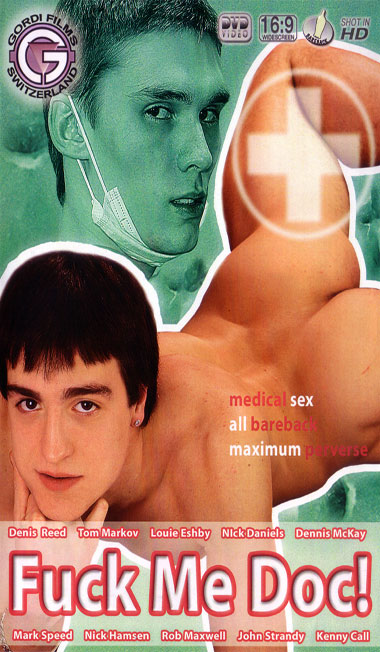 Click To Buy At Simply Adult Dvd
Fuck me Doc! Starring Denis Reed, Dennis McKay, Johnny Strandy and more. In over 100 minutes of medical sexual games, in 5 hot scenes with 10 gorgeous guys. All bareback, maximum perverse and these docs will always find a reason to stick something deep up inside your arse! Starting with a doctors appointment, Dr Denis listens to hunky Toms chest, weights and measures him, checks his throat, then moves down his body to check his hairless balls and hard cock. Which the patient says never goes away! The doctor tries sucking it deep down to the balls and wanking it, before tugging on his own bit of man meat. Tom gets down on his knees to return the favour and suck Dr Denis hard cock, licking the tip and sucking his balls. Dr Denis sticks a thermometer up Toms arsehole, while Tom continues to suck his cock. Using other doctor equipment to shove inside Toms arse, he then uses his own cock. Using butt plugs and their cocks they moan loudly before both men spray their loads over each others bodies. Tom is healed! So next time you visit the doctor, watch for what he wants to stick up your arse!!
Additional Information
| | |
| --- | --- |
| Stock Code | GV593 |
| Running Time | 118 mins |
You may also be interested in...